Learn how to make a DIY flower wall for any occasion! Flower walls are the perfect extra décor for celebrations, and they also make a great "just because" project to bring people together or add a little greenery to an area. Create stunning DIY flower walls for any occasion with fresh flowers to elevate your décor.
DIY Flower Walls
Floral Arrangements
Wedding Flower Arrangements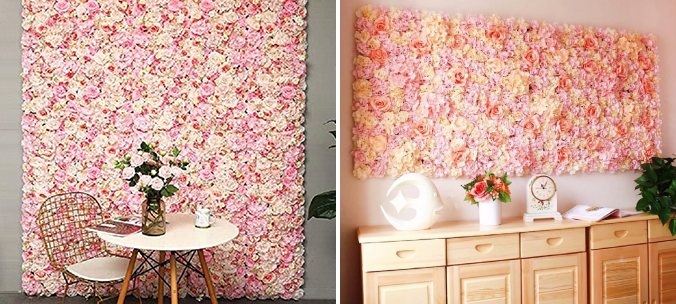 Flower walls are perfect for weddings ceremonies and receptions, vow renewals, anniversary surprises, photobooths, or as backdrops for special events like baby showers or birthday parties.
While flower walls are the perfect extra décor for celebrations, they also make a great "just because" project to bring people together, add a little greenery or brightness to an area, or transition a space into spring or summer.
While you may be tempted to use fake flowers (and it is fine to do so), live flowers truly make DIY flower walls for any occasion stunning–especially for outside events such as spring and summer wedding receptions.
The number of flowers that will need to be used really depends on the size of your flower wall, but generally more is better. You can also use moss, leaves, or other greenery to fill out your flower wall and give it more depth and natural visual appeal.
Create stunning DIY flower walls for any occasion with fresh flowers, leaves, and vines to elevate your décor.
The Easy 1-Panel Wall
One of the simplest ways to make DIY flower walls for any occasion is to create a single panel flower wall. DIY flower walls for any occasion
This can vary in size from a standard size foam core or poster board to a large wooden panel that spans an entire wall.
To get started, you'll need to decide on a panel material or backing for the flower wall. Prefabricated foam panels for the flower wall are an easy way to achieve the look you want without as much work as creating panels from scratch.
To get started, you'll need the following supplies (or some variation):
Foam core board
Hot glue gun
Scissors or wire cutters
Command strips/Velcro hanging pieces
Flowers (real or fake)
Any other decorative pieces
Start by decorating or painting the foam core board in any areas that will be exposed or left uncovered by flowers.
Next, use scissors or wire cutters to trim flowers in the size desired–either removing stems and leaves or any thorns on roses.
Use a hot glue gun to glue the flowers to the foam core board or poster board at the stems. You can also use resins or staples to attach the flowers to the board, as desired.
Finally, use command strips or similar Velcro hanging pieces to attach your newly created "flower board" to an existing wall or structure. The number of strips needed will depend on the size and weight of your board, but they should be evenly spaced and applied to a flat surface.
The Hanging Wall
You can also use string to hang the flowers on an existing wall or from a post, tree, or other focal point and let the flowers hang down to create a more organic looking flower wall.
Flowers can be strung up from a focal point or line or attached directly to an existing wall with colorful washi tape for DIY flower walls for any occasion. You don't have to fill up an entire wall or space to make an elegant statement with flowers. A hanging wall incorporates the best of both options with flowers that add gorgeous visual appeal and require less input to create a display.
To get started, you'll need the following supplies (or some variation):
Washi tape
String
Flowers, stems, leaves
Metal or wooden rod
Start by securing your metal or wooden rod to a stable point–you could use a curtain rod attached to a window or wall, a wooden slat attached to an existing wall, outdoor post, or gazebo, or any other horizontal beam to act as the top of the "wall" for your flowers.
You can also get creative with rope, twine, or other durable string to position and hang the flowers into a "wall" format.
While many prefer a flower wall of just flowers, you may want to keep the stems for easier hanging or add leaves for more greenery and to fill in the space between flowers and help connect them.
Connect your flowers to the string either by tying a knot around the stem of the flower or by taping them to the string. Utilize ivy or vines intertwined with flowers to make the "hanging" aspect a bit easier to manage and add decorative flair.
Washi tape is a colorful, easy way to tape flowers directly to a wall or board if you don't want to hang the flowers.
Flower Décor Signs
One of the most creative ways to add appeal to a sign is to add flowers. Entrance signs and special events with signs can benefit hugely from a little bit of flower power added to them.
Flower signs are not a "wall" of flowers on their own, but this type of flower design can have a big impact if done correctly and created for multiple signs or decorative pieces. Wedding signs decorated creatively with flowers have grown in popularity over the years and continue to be used for both ceremonies and wedding receptions.
To get started, you'll need the following supplies (or some variation):
A picture frame
Wood board
A metal or wood stand
Glue, zip ties, or string
Markers, paint, stencils
Use existing picture frames and free-standing signs to act as a platform for your flowers or make your own out of metal or wood.
Paint the sign prior to adding flowers by using paint and stencils or free handing your message. Be sure to let it dry before adding flowers!
Attach the flowers to the sign using a hot glue gun, or to keep the flowers fresh, attach them to the sign with zip ties or string. You can drill small holes on the board to make attaching flowers simpler.
Add flowers to the top and sides or wrap them around the post. Creating DIY flowers walls for any occasion is the perfect time to get creative.
Flower Arches
While not a "wall" per-sey, flower arches are incredibly popular for special events, celebrations, and weddings. Flower arches provide an elegant backdrop and have endless possibilities for design and construction when thinking of DIY flowers walls for any occasion.
Your flower arch can be made of a variety of materials and act as a backdrop for a wedding ceremony, though wood and metal are most commonly used to create arches.
To get started, you'll need the following supplies (or some variation):
Wood posts and boards (or metal!)
Nails & wood glue
Plenty of fresh or fake flowers
Hot glue, string, zip ties, floral cage, or wire
Start by building a base for your flower arch, whether out of wood or metal. The arch doesn't necessarily have to be arch-shaped–there are so many possibilities that are only limited to your imagination. From elegant circle arches to rustic, hand-built square arches, these elements fit almost any event or occasion.
Next, attach your flowers, vines, and fill greenery to the constructed arch. There are a few different ways to ensure the flowers stay put, from hot glue on wood or metal to tying the flowers and vines using twine or string.
Many florists choose to use a floral foam cage, which allows you to easily attach flowers to any surface from their stems. Floral cages can be stacked or drilled into arches and offer more space to completely fill the arch with flowers. Get a wedding flower consultation to learn more!
The Free-Standing Wall
One of the most popular DIY flower walls for any occasion is a free-standing flower wall. Although these require more intricate design and construction, there is a huge payoff for your efforts.
These types of flower walls can be put on wheels for easy movement and act as the perfect backdrop for photos at special events such as weddings, anniversary celebrations, baby showers, parties, and more.
To get started, you'll need the following supplies (or some variation):
Plywood & several 2"x4" wood pieces
Screws & drill
Paint & other decoration
Floral cages or foam
Adhesive materials (glue, wire, etc.)
Fresh flowers or prepared flower sheets
Start by constructing your free-standing wooden frame. Get a large plywood board and screw or nail in some leg supports to create a stable base for your flower wall.
Next, if any of the board will not be covered with flowers, paint and decorate your wooden board to match the general theme of your event.
A solid green background acts as a sort of "field" for your flowers and ensures that they stand out better. White is also a good color option, since it will prevent anyone from noticing any gaps in the flowers.
Finally, add your flowers! Screw on flower cages and add your favorite flowers to match the occasion.
A free-standing flower wall does require more construction efforts unless you want to purchase a free-standing material and simply add the flowers, but it also creates the most authentic "wall" of flowers of all the options.
Get Flowers
Get the perfect flowers for your special event or next project. Order fresh flowers online now or schedule a flower delivery for your DIY flower walls for any occasion. Everyday Flowers & Balloons offers a variety of gorgeous fresh flowers throughout the year.
If you can't find the time to create your own DIY flower walls, our florists may be able to help. The team at Everyday Flowers & Balloons creates custom flower and balloon walls, arches, and decorations for our customers. We deliver to local Redwood City, CA addresses, including churches, event halls, and home addresses.
Get in touch with us to learn how we can help with your flower wall ideas.